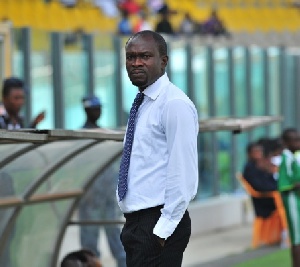 Former Black Stars captain Charles Akunnor has emphatically stated that the Ghana Premier League is "dead" as players from the championship are not able to make the grade at the senior national team level.
There's been growing concerns from advocates of the local league following players inability to command a place in the Black Stars set up.

And Akunnor - widely regarded as one of Ghana's most successful players to have come out of the league in the last thirty years - has wielded into the debate about why local players are not given opportunity in the senior national team, claiming that the materials are not top notch.

"Our local league is on and off and I don't think it's good for the players. Today we play, the next minute we go on break. The league as I see it has been dead for some time now because it is not improving the players and officiating is also not helping to improve the players," Akunnor told Happy FM.
"We must check all these things. I think it's hindering the progress of the players. We have to put adequate measures to ensure we curb these happenings for us to move forward but if not that then we'll keep going one step forward, five steps backwards," the AshantiGold gaffer fumed.

"We've shot ourselves in the foot for far too long and it's time we put a stop to it but we've accepted our shabby way of managing our local league and we're comfortable with it, meanwhile, at the end of the day it's affecting us negatively."

"When it matters that at the end of the local league and players are called upon to play for the national team then it becomes a headache for the coach because they're not good enough. We're not improving. We must wake up, the FA, the government and we as lovers of the game because our local league is at its lowest ebb," Akunnor deduced.