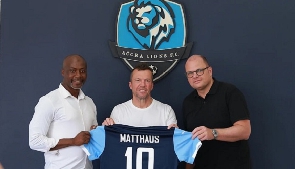 German football legend Lothar Matthäus has admitted to being pleasantly surprised by the level of professionalism displayed by Accra Lions after acquiring a stake in the Ghanaian top-flight club.
Matthäus made the revelation on Tuesday during his unveiling as the co-owner of the club, based in the Ghanaian capital city.

"I was surprised with how the Accra Lions trained when I visited them. They are professionals, and I am excited about this partnership," Matthäus said. "We have to show that we are a family and we have to fight together."

The ownership group now consists of Matthaus, Ghanaian football star Frank Acheampong, and renowned football agent Oliver Konig. This purchase comes with a reported valuation of around €2 million.

Matthaus, a distinguished figure in German football as the ex-captain and 1990 World Cup winner, expressed his excitement about this new venture. "Of course, it's a business model," the 62-year-old stated. "Ghana has always had a huge potential of talent, you can see that in the national team"
Highlighting their future plans, Matthaus outlined their focus on nurturing young players and facilitating their transition to Europe. "We want to bring young players to Europe. On a serious path and already well-trained. That's why investments are also made here in the training area," he explained.

The investment will particularly emphasise bolstering the training infrastructure to ensure the players receive excellent preparation.

Accra Lions are currently enjoying their second season in the Ghana Premier League, and have playing some of the best football in the league. With three games to go, they are set for a mid-table finish.