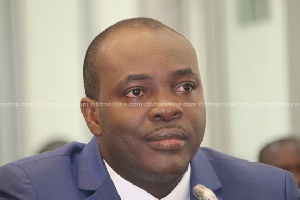 Mr. Isaac Kwame Asiamah, Minister of Youth and Sports (MOYS) has held discussions with the Chief Executive Officer (CEO) Africa Agrobusiness Incubators Network, Dr. Alex Ariho over job creation avenues and strategies of youth development.
Together with the Country Director of the Canadian Feed The Children (CFTC), Madam Susan Watkins, the discussions focused on areas MOYS can explore to enhance job creation and mobilize resources to champion the agenda.

Dr. Ariho said there is a missing link between academia and the job industry, stressing that the gap must be bridged to create a direct job pool for the growing youth and to increase Gross Domestic Product (GDP).

"There has always been a huge gap between academia and the practical industry and it is necessary that the gap is bridged to create more jobs in the economy.

"The future of this country is the youth and getting them into the mainstream industry is our major objective at AAIN," Dr. Ariho noted.
The interaction centered on a joint partnership towards job and employment creation for women and youth in Ghana through mentorship, business skills development and enterprise development through incubation.

"We are ready to partner the Youth and Sports Ministry to ensure domestic private sector development and creation of new businesses by increasing the number of entrepreneurs in Ghana through agribusiness incubation," Dr. Ariho added.

On her part, Madam Susan Watkins expressed delight at the birth of the relationship among the three organizations emphasizing her outfit's commitment to continue their support for women and children in deprived communities.

"We (CFTC) have been operating in Ghana for close to 18 years now and we are currently in the three northern regions, where we have created a mentorship platform to empower women in job creation so that they can feed their families.
"Initially, we provided the feeding for the children but we have now advanced to aiding the women to have their own profession.

"We are also committed to making this union a reality," Madam Watkins noted.

The initiative will be done in phases starting with northern Ghana where CFTC have done tremendous work towards women empowerment and have now forged partnership with AAIN to advance this agenda moving forward.

The minister said, job creation has been a major challenge for the country and the intervention of AAIN and CFTC will be hugely welcomed.
"On behalf of the Ministry, I thank you for making this meeting possible and the commitment you have shown. Job creation has been a major challenge and we shall be delighted to practicalize your interventions to create more jobs.

"The government is committed to creating a better Ghana for all and as you said, the youth are paramount.

"The mentorship and skill development programs, the startup programs for fresh graduates from school and the support for women and children are great steps to alleviating poverty and we are delighted to welcome these programs," he said.

"We have a youth wing at the ministry and we believe they have similar intervention strategies and a marriage between the two wouldn't be a problem at all," the Minister added.
The Minister, therefore, called on the Dr. Ariho and Madam Watkins to table a proposal to his office to consider for a possible partnership to create more jobs and raise resources to champion them.

The three parties agreed to develop a joint partnership program focused on incubators establishment with emphasis on mentorship and businesses skills development for women and youth in Ghana.

AAIN is one of the technical partners of African Union supporting the establishment of agribusiness incubators for job and employment opportunities for youth - men and women in 55 AU member states

With Ghana being one of the beneficiary countries since 2010 and currently hosting the headquarters in Africa, there is huge optimism of the partnership creating many jobs for the youth.