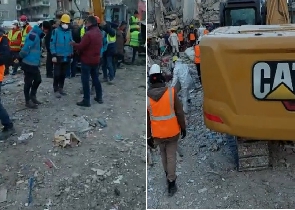 Work machines at the site of the apartment block that housed former Black Stars player Christian Atsu, have halted work whiles miners have taken over in rescue efforts, journalists close to the operation have reported.
The first to provide an update as of February 13, 2023 was one Salim Manav who posted the information on Twitter citing a relative to Atsu's team manager, Taner Savut who is also believed to be under the rubble.

"Message from Timuçin Aşçıgil (Taner Savut Hodja's brother-in-law): The Renaissance site was looked at with a thermal camera, 3 different sounds were heard and the miners entered. Let's support urgently!" his tweet read in part.

The said in-law, Timuçin Aşçıgil, posted videos of a caterpillar at the site of the Renaissance residence in Hatay, along with a number of workers undertaking rescue efforts.

His tweet caption affirmed that the building complex had been subjected to checks by a thermal camera and that it had shown evidence that people were alive under the rubble.
Atsu, who plays for Turkish side Hatayspor was trapped under the rubble after the February 6 earthquake that struck the southern part of the country and parts of Syria.

It has so far claimed the lives of over 35,000 across the two countries with the death toll continuing to mount. Many more thousands have also been injured whiles rescue efforts continue in earnest to find more survivors who may be under the rubble.

Atsu's case has attracted a lot of interest in Ghana and across the world with his British wife calling on the Turkish and British authorities to expedite action in rescuing the former Chelsea, Newcastle player in an interview with the BBC last week.


Hatayspor Sportif Direktörü Taner Savut ve futbolcu Christian Atsu'nun olduğu Rönesans rezidans'a termal kameralar ile bakılmış. 3 farklı ses duyulmuş. İş makinaları durdurulmuş ve madenciler girmiş. Acil destek lazım pic.twitter.com/nvL5ER7jPT

— Timuçin AŞCIGİL (@ascigil) February 13, 2023