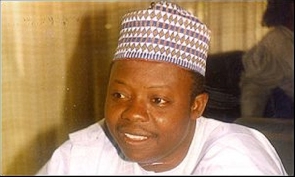 A former Ghana Sports Minister Mallam Yussif Issah was sentenced to four years in prison on charges of stealing monies meant for a Black Stars' game played in Sudan.
Then President John Agyekum Kufour relieved him of his position after an amount of $46,000 dollars disappeared en route to Khartoum for the game.

An Accra High Court found Yussif Issah Guilty on two charges – stealing the money, and fraudulently causing the loss of the money to the state.

Yussif Issah was ordered by the High Court to refund the money within a month or serve additional 12 months in jail, on top he was fined 10 million cedis.

When the judgement was passed on Yussif Issah who was 40 years then, family members broke down in tears together with his wife and three.

The Presiding judge, Justice Julius Ansah told the court he wanted to pass a sentence which would act as a deterrent to public officials, adding that Ghana has lost huge sums of money as a result of corruption on the part of government officials.

Mallam Issah refuted the claims, adding that he was innocent and that the money was stolen by corrupt officials at the Sports Ministry.
Prior to his appointment by President Kufour, Yussif Issah served as the acting chairman of the People's National Convention (PNC) which supported the ruling NPP party.

Despite widespread scepticism about his suitability for the job, President Kufour went ahead to name him as the Sports Minister.

After the $46,000 went missing, Issah refused to resign his job, so the President sacked him and was sent to court after police investigations concluded he had stolen the money.

Ghana's leading digital news platform, GhanaWeb, in conjunction with the Korle-Bu Teaching Hospital, is embarking on an aggressive campaign which is geared towards ensuring that parliament passes comprehensive legislation to guide organ harvesting, organ donation, and organ transplantation in the country.

Click here to start the nomination process for the 2023 GhanaWeb Excellence Awards

Watch the latest episode of Sports Debate and Sports Check below






LSN/KPE