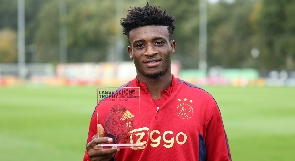 Ghanaian star Mohammed Kudus is set to be one of the hot topics of the Summer transfer window with numerous European clubs reportedly interested in the player.
The midfielder-turned-forward has been on an upward trajectory in the past two seasons and gained recognition as one of the players set to take world football by storm.

Kudus's performance at the 2022 World Cup also dispelled every doubt about his performance and positioned him as a man.

With 11 goals scored in the Dutch league this season, the player described by Marco Van Basten as one of Ajax's best-ever talents is destined for the exit.

GhanaWeb today looks at the likely destinations for Kudus who is reportedly a target for almost every top club in the world and likely to cost $100 million.
Manchester United

Manchester United have been strongly linked with Kudus due to the presence of his former manager, Erik Ten Hag.

Ten Hag has appeared to be ever-willing to pluck Ajax's top talents and Kudus could be the next, per reports.

United have Bruno Fernandez, Eriksen, Sabitzer, and Fred as players who play in roles that Kudus could primarily play but there is a feeling that aside the first two on the list, he is an upgrade on all the options.
Again his versatility which allows him to play as a winger and a center forward could work perfectly for Ten Hag.

Liverpool

Jurgen Klopp's side are expected to undergo a midfield overhaul with reports indicating that Henderson, Fabinho, James Milner, Oxlade Chamberlain and a host of others are expected to leave.

Jurgen Klopp is believed to be considering a move for Kudus as he sees the Ghanaian as a perfect fit for his midfield revolution.
Kudus could play in the centre and central attacking midfield roles for Liverpool. A childhood Liverpool fan, Kudus would love to play for his club.

Real Madrid

Madrid have had a difference in strategy where they scout for the best young talents in the world, particularly France and South America, and sign them with the major selling point being the history of the club.

Reports in Spain on Tuesday, 14 March 2023 indicate that the club is looking at Kudus and could move for him in the summer.
Madrid already have a packed midfield but with Toni Kroos and Luka Modric nearing the end of their careers, adding Kudus to Camavinga, Tchouameni and the likes will not be bad.

Borussia Dortmund

Dortmund were heavily linked with Kudus in January and expectations were that he was going to take another step up to the German Bundesliga.

Dortmund are still interested and could move for him in the Summer.