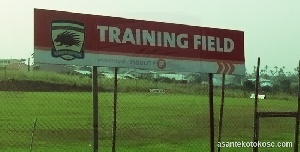 Special Aid to Manhyia Chief of Staff, Nana Kwame Aboagye Mensah, has revealed to Happy Sports that Manhyia is planning to invest in the club by building a world-class facility at Adako-Jachie.
Adako-Jachie, where the club's training facility is located will receive a major facelift should the project commence.

According to him, Manhyia wants the team to be run professionally thus the need to give it all the required facilities which befit a world-class team.

"We want Kotoko to look like a professional club. So we are planning to invest at Adako Jachie", he told Ohene-Bampoe Brenya on Happy Sports on Happy 98.9FM.
"We want to follow best practices done by bigger teams such Manchester City, Real Madrid and others. So we intend to begin from somewhere".

He added that the Board has been mandated to ensure that Asante Kotoko builds a youth team which will feed the senior team in the future.