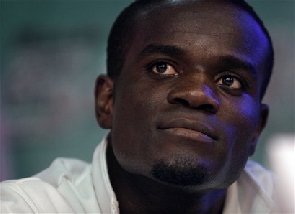 Former world boxing champion Joshua Clottey claims that most athletes have gone bankrupt because of their insatiable desire for sex.
The former IBF welterweight champion asserted that some sports personalities fail to remain humble after they become rich.

He noted that these sports personalities became fond of flying women from Europe and America to Ghana, all in a bid to satisfy their lustful desires.

According to the boxer, some athletes have lost their wealth as a result of their inability to control their sexual drive.

Speaking in an interview monitored by GhanaWeb Sports, Clottey said, "Some people are not humble. You can't ship a woman from the US, Italy, or London for, I'm sorry to say, sex. If you do that, your money will not stay."

"That is one thing that makes sportsmen go broke," he told JoyNews.

When asked if he ever engaged in the lifestyle of chasing after women, Clottey said, "I don't do those things."
"I have not even shipped a woman from Kumasi to Accra because of one sex," he added.

Watch the full story about Christian Atsu being trapped in the rubble





JNA/KPE