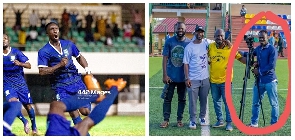 The internet was flooded with pictures of young Eric Afriyie Owusu when he emerged the hero on Friday, September 15 when Real Tamale United secured a lone goal over Hearts of Oak in the match day one of the betPawa Premier League at the Aliu Mahama Stadium.
Eric Owusu Afriyie grabbed the only goal for Real Tamale United and the first player to score in the 2023/24 Ghana Premier League.

The story of Eric Owusu Afriyie took a different turn when the Real Tamale United hero put down his camera to follow a path he most desires as a young footballer.

Months ago, Eric Owusu was one of the photographers at Ashantifest 2023 held in Kumasi which garnered massive media recognition following the amazing pictures which circulated on the internet.

His works were highly impressive and earned the admiration of many but the saying, 'Follow your heart and not your mind' had a huge cast on Eric Owusu Afriyie who thought it wise to follow his heart and abandoned the camera and stick to the sports he loves most (football).

He joined Real Tamale United prior to the commencement of the 2023/24 Ghana Premier League as a forward, having played lower tier-football in the Kumasi.
Eric Owusu Afriyie is expected to lead the attack for the Tamale side, following the departure of Roland Frimpong and Manaf Umar who left to join Bibiani Gold Stars and Nsotreman respectively.

He already has a goal in his debut game and it would not come as a surprise when he continues to find the back of the net for Real Tamale United.

Check the tweet below:


Last month, followers of @JoySportsGH would've noticed that we did a big coverage of the #MTNAshantifest2023 football gala held in Kumasi.

The gent circled is Eric Owusu Afriyie, who was one of the photographers used during the tournament.

Yesterday, Eric scored against Hearts… pic.twitter.com/6F4tVTYAp7

— Gary Al-Smith (@garyalsmith) September 16, 2023
Eric Afriyie Owusu's story is shocking; he went from being a photographer to winning the game against Hearts of Oak in just two months. pic.twitter.com/935CvHajEG

— Mr.Murphy (@SethMurphyGH) September 15, 2023
Ghana's leading digital news platform, GhanaWeb, in conjunction with the Korle-Bu Teaching Hospital, is embarking on an aggressive campaign which is geared towards ensuring that parliament passes comprehensive legislation to guide organ harvesting, organ donation, and organ transplantation in the country.
Click here to start the nomination process for the 2023 GhanaWeb Excellence Awards
Watch the latest episode of Sports Debate and Sports Check below






LSN/DAG