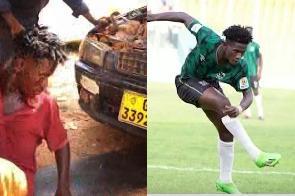 In the challenging world of football, earning a substantial salary can be a difficult task, especially in Ghana.
It takes not only talent and hard work but also a stroke of luck and a touch of popularity.

Many players have found themselves juggling football with another occupation to make ends meet while awaiting their big break.

Dauda Seidu, a player in the Ghana Premier League, has embarked on the demanding dual role of being a professional player and working as a mechanical engineer.

Although he had the opportunity to venture abroad, his time there was not as successful as he had hoped, leading him to return home to Ghana, a period he recalls as particularly challenging.

"When I was young, my dad used to buy boots for me. I had the chance to travel abroad, however, upon my return, things became difficult. I had to find work as a laborer and even as a Trotro conductor at times," Dauda Seidu revealed in an interview with TV3.
In his pursuit of a more sustainable job to support his football aspirations, Dauda Seidu ultimately settled on becoming a mechanic engineer. He worked as a mechanic while playing for Ashantigold in the Ghana Premier League.

"I finally made the decision to become a mechanic. I worked in that field while playing for Ashantigold before later moving to Samartex," he explained.

Following Ashantigold's relegation to the lower league, Dauda seized the opportunity to join Samartex, a newly promoted side.

Since joining the club, he expressed that life has become somewhat easier.

"I no longer have financial issues at my current club because they pay me on time. However, expenses remain high," shared the dedicated player.
Today, Dauda has put his mechanical career on hold to fully focus on his football journey.

However, he still holds the aspiration of traveling abroad and hopes that one day, when he eventually hangs up his boots, he will be able to return to the mechanic shop and continue working.

JNA/OGB