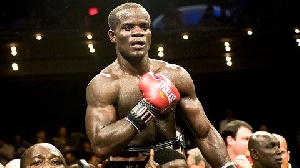 It's been said that boxers don't retire from boxing; boxing retires them.
Last September, in front of curious onlookers in his native Ghana, Joshua Clottey scored a ninth-round TKO over Tanzania's Azizi Mponda. It was an impressive showing for a 42-year-old former world champion with only two fights in the past four years.

Some may believe Clottey returned for money. But the Bukom product is motivated by a return to glory; a return to what he lost one fateful night in March 2010.

That evening, Clottey and Manny Pacquiao fought in front of 41,843 at newly-built Cowboys Stadium (now AT&T Stadium) in Dallas. It was expected to be a war. It was anything but.

As a turtle withdraws into its shell when attacked, so too did Clottey behind his vaunted high guard defense — for virtually every second of all 12 frames. He would lose a wide unanimous decision.

"My performance was very bad and it still haunts me how I missed an opportunity to prove myself against a legendary fighter like Pacquiao," Clottey told BoxingAfrica.com. "That bout could have been the most memorable fight of my career due to its nature but it turned out to be the one that destroyed it."

Nevertheless, that one performance shouldn't take away from what was otherwise a fine 24-year professional career; one of the greatest in Ghana boxing history.

Indeed, Clottey has much to be proud of as he recalls during this conversation with BoxingAfrica.com. Here is a look at his four most memorable moments:

ANTONIO MARGARITO

Date: December 2, 2006

Location: Boardwalk Hall, Atlantic City, New Jersey

Result: Margarito UD 12

Records: Clottey 30-1 (20 KOs), Margarito 33-4 (24 KOs)

At stake: Margarito's WBO World Welterweight title
Three years after relocating to America, Joshua Clottey landed his first world title shot against the feared Antonio Margarito.

"I had a good training camp during the preparations for the fight," said Clottey.

It showed early on as Clottey dominated. But as his style, Margarito came on midway and took control.

"During the bout, I won the first four rounds but injured my left hand in round four which really affected my plans but I managed to finish the rounds," said Clottey.

Margarito never stopped attacking. He took plenty of punches in doing so as the two combined for a welterweight record of 1,675 punches thrown in a 12-round bout. Margarito won a unanimous decision, retaining his title. Clottey impressed in a losing performance.

"It was after the fight that I was recognized in America as a talent because people feared to fight [Margarito] and my performance was great despite losing," said Clottey.

DIEGO CORRALES

Date: April 7, 2007

Location: Shrine Mosque, Springfield, Missouri

Result: Clottey UD 10

Records: Clottey 30-2 (20 KOs), Corrales 40-4 (33 KOs)

At stake: No title on the line

The late Diego Corrales was one of the great champions in the 130- and 135-pound divisions. At 147, however, he was out of his depth, as he discovered against Clottey.
"There was a publication online where he said he wanted an opponent at welterweight and I told my handlers that I wanted to fight him," said Clottey.

Clottey says he had a great camp despite issues making weight for the contract 149-pound limit.

"I had to drop 12 pounds or face sanctions," said Clottey. "We fought in Missouri and it was very cold so I had to walk like 12 miles to drop some weight which wasn't enough to make the required 149 pounds.

"It was hell for me because I had to use a fat burner to make the weight in order to prevent a 30% deduction from my $80,000 purse or a two-year ban from the sport."

In the end, Clottey made the weight. Then he proceeded to batter Corrales from the opening bell until the final one. Corrales was dropped in the ninth and tenth rounds. Cards read 100-87, 98-89 and 97-90.

ZAB JUDAH

Date: August 2, 2008

Location: Palms Casino Resort, Las Vegas, Nevada

Result: Clottey TD 9

Records: Clottey 34-2 (21 KOs), Judah 36-5 (25 KOs)

At stake: Vacant IBF World Welterweight title

The stakes were high for both fighters, particularly the 30-year-old Clottey, who had a bone to pick with former gym-mate Judah. Clottey had been anxiously awaiting this day after Judah had threatened him with a gun four years before. So he didn't think twice when it was offered to him.

"It was the perfect opportunity for me to realize my dream of becoming a world champion so I quickly took the fight," he recalled. "I was glad to have met up with him after he threatened to shoot me for calling him out. I proved myself to him."
For this bout, Clottey relocated to a remote gym in the Big Apple, away from where he and Judah typically trained, in order to concentrate on a bout he described as the defining moment of his career.

During the build-up, Judah claimed to have gotten the upper hand on Clottey during their sparring sessions.

"He used to spar with my brother, Emmanuel Clottey, so he thought I was the one," Clottey laughed. "So I explained to him that I wasn't the one by beating him."

The fight was close early on. Southpaw Judah used his hand speed and athleticism to get the better of the Ghanaian. A patient Clottey calmly walked Judah down and landed thudding, well-placed shots to the head and body.

The punches eventually wore Judah down. By round seven, he was taking a beating. He was barely hanging on when the fight was stopped midway through the ninth round due to a cut over Judah's right eye.

"I landed a clean punch which opened a cut over his right eye but the referee ruled it as an accidental clash of heads after Judah said he could not see," said Clottey.

Two judges scored the fight 86-85 and the other had it 87-84, all in favor of Clottey. Ghana had a new world champion.

"I was glad the fight went on the scorecards which went in my favor," said Clottey. "He congratulated me and called for a rematch but it never came to pass."

MIGUEL COTTO

Date: June 13, 2009

Location: Madison Square Garden. New York, New York

Result: Cotto SD 12

Records: Clottey 35-2 (21 KOs), Cotto 33-1 (27 KOs)
At stake: Cotto's WBO World Welterweight title

Following his win over Judah, the IBF mandated that Clottey face South Africa's Isaac Hlatshwayo. Clottey says the fight would have taken place in South Africa and he would have received $80,000.

Fate would intervene.

"Top Rank contacted my managers for me to fight [Miguel] Cotto and I made over $500,000 from that bout which was my biggest purse in 2009," Clottey said.

Thus, Clottey was stripped of his IBF belt but got the opportunity to fight for another world title—and made a lot more money doing so against a heavy favorite in superstar Cotto.

"I trained very hard for that fight because I needed to build on my image in America after beating Zab Judah," Clottey said.

Cotto got off to a hot start, dropping Clottey in the first with a stiff jab. Clottey worked his way back into the fight and then took over. Heading into the championship rounds, it appeared Clottey had the edge. Cotto came on strong in the last two stanzas, making it a tight-knight battle.

The cards reflected it. One judge had it 114-113 for Clottey while the other two scored it 116-111 and 115-112 in Cotto's favor.

"I still maintain that I won that fight even though it was close," said Clottey. "Cotto was given the verdict but I was glad that Ghanaians at ringside were