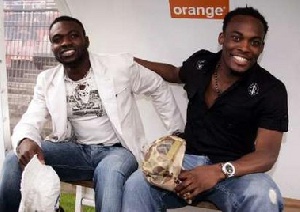 Thu, 9 Sep 2010 Source: 90 Minutes Newspaper
BLACK STARS captain, John Mensah is set to go head-to-head with Chelsea's Michael Essien for the prestigious GUBA Awards scheduled to take place on the 24th October this year in London.
The Ghana UK Achievement Awards (GUBA) is a Business & Innovation Awards and is a sponsorship funded event organised by Nudent, to reward and celebrate all that is best about Ghanaian businesses in the UK. It is also to raise local pride and enhance the image and self esteem of local businesses by identifying innovation, improvement and quality.

Speaking to 90 MINUTES, John Mensah said "It is an exciting event and I am proud to be part of it. It's nice to be appreciated and rewarded and I hope to beat Michael (Essien) to it, even though he has also been phenomenal for Chelsea. In the end, I guess we are all winners and would continue to propagate the good name of Ghana wherever we go."

Mensah, who sustained a grade two hamstring tear late in Sunderland's game against Birmingham City and was expected to be out of action for around three weeks, says he's gradually getting back to full fitness. He has been undergoing light training sessions in order to be part of the Black Cats upcoming fixtures.
He told us: "Everything is on course and thanks to the team's medical department, I am gradually getting there. It has been hard for me to watch from the stands but I hope to be in action for the club very soon."

Mensah missed the Black Stars 2012 African Cup of Nations qualifier at the Somhlolo Stadium in Mbabane on Sunday as he stayed in Sunderland to work on his rehabilitation programme.
Source: 90 Minutes Newspaper