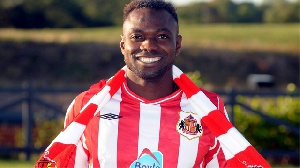 Wed, 23 Sep 2009 Source: rexford tetteh nii ayi
Sunderland manager, Steve Bruce has showered praised on Ghanaian defender John Mensah after an impressive showing in yesterday's Carling Cup game against Birmingham City.

Though Bruce described his side's 2-0 win over Birmingham as 'easy' he showered praised on Mensah who was starting his first game for the Black Cats at the Stadium of Light since joining them on a year loan from French side Olympic Lyon.


Also attracting praise from the manager was fellow defender Pablo Da Silva, who did his chances of first team football no harm.


"You just see Mensah and you look and think, 'That's a bit of quality'," he added.


"He has got that arrogance that top players have got, he is quick, powerful, he jumps, heads the ball well, he's tough.


"That's why he is captain of his country and Da Silva mirrors him in that respect. He will be okay too.

"It's taken a little while but the two of them are here now, they are part of us now, thankfully. They will be big players for the club, I am sure of that. "The two of them are captains of their countries, and you don't captain your country unless you have got something.


"Of course, they have never played in English football, that's the big question mark.


"But I am sure they will be big players for the club over the next few months and years.


"They are two really good players and they both can play anywhere too." Steve Bruce appears to have developed some love for African player's especially Ghanaian players after he singed Black Stars goalkeeper, Richard Kingson when at Birmingham and later took him to Wigan when he moved to join the Latics. It is believed that the Ghanaian goalie will join his former manager at Sunderland when the next transfer window opens.

Source: rexford tetteh nii ayi