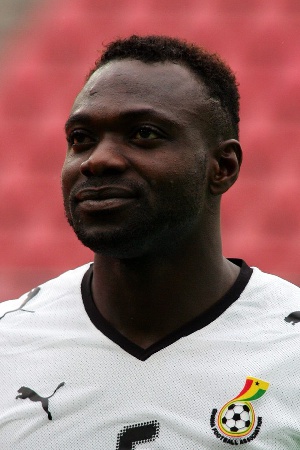 Sun, 28 Feb 2010 Source: --
JOHN Mensah's future at Sunderland beyond the end of this season is under threat even though Steve Bruce believes he is one of the best players at the club.
Mensah is keen to stay at the Stadium of Light, but a back problem which has limited him to just 10 appearances during a loan move from Lyon means Bruce must decide whether to take a massive gamble.

Bruce is adamant Mensah has made a huge improvement to the Sunderland defence, but admits his fitness record has been terrible as the club's medical staff struggle each week to get him out on the pitch. Bruce said: "There is ten million quids worth of player there. To solve the problem he needs an operation and it's 12 months out.

"Even after that, it isn't certain it will work. It's the spinal canal, which is way above my head, but it's not as big as it should be. That causes problems in the nerves and injuries in his hamstrings and calves.

"It's a very difficult decision for me. I know we are a better team when he is on the pitch. He is a top, top player, as we saw at Arsenal last week.
"We will look at it in the future. At the moment we're just trying to get a win so I'm not focusing on that. Make no mistake we will have a conversation with Lyon over the next few weeks. Another loan deal? Possibly." Mensah has played virtually the entire season without ever managing to train properly during the week, and Bruce admitted they are taking special measures just to get him into a position where he can last 90 minutes at the weekend.

He said: "If you look at John, his playing record is awful. He had a great spell at Nantes before he got his big move to Lyon. But he got injured at Lyon and they bought someone else.

"We all know he is a fantastic footballer when he is fit, but he has a serious problem which we've diagnosed. We'll speak to Lyon when the time is right. It's like a Paul McGrath (at Manchester United) situation. He can't train at the level you want him to train and we have to be careful with him."
Source: --