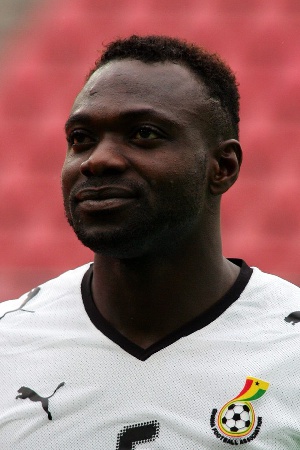 Mon, 3 May 2010 Source: --
Injury-prone defender John Mensah suffered another setback on Sunday, forced to leave the pitch after just 17 minutes of the Premier League match between Sunderland and Manchester United.

Mensah, who has been Ghana's first-choice centre back for the last five years, has suffered with a litany of injuries related to a long-standing back problem. Reports on Sunday said he suffered a hamstring problem.


Mensah missed January's African Nations Cup finals in Angola through injury.
Any Surgery Must Wait Till World Cup Is Over
Ghana international John Mensah is eager to make his second World Cup appearance and does not want to book any appointment in the operating room before that time.
He told Graphic Sports: "If there will be any surgery at all it has to wait until after the season and the World Cup.
"I'm fully fit now and I want to help Sunderland in the last game against Wolverhampton and then switch attention to the World Cup."
The defender has recovered from a chronic back injury, but doctors recommend he undergoes surgery for a lasting solution.


The Black Stars' assistant coach Kwasi Appiah has already paid him a visit at his Sunderland base and has assured the nation of the player's readiness for South Africa 2010.


The deputy skipper of the four-time African champions is well respected back home and was instrumental during their 2006 and 2008 Nations Cup campaigns. Mensah, who made his continental debut for the Black Stars at Mali 2002, stood out during the World Cup run in Germany in 2006.

Source: --