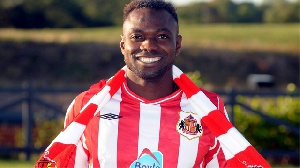 Tue, 16 Mar 2010 Source: daily mail
Lyon defender John Mensah is hoping to secure a permanent move to Sunderland. The Ghana defender has finally enjoyed a run in Steve Bruce's side and his emergence as Michael Turner's partner has coincided with Sunderland's run of one defeat in seven.

There are clearly concerns about his long-term fitness. Mensah has missed the majority of his loan from Lyon with a back problem which, Bruce revealed, prevents him training during the week.


It is similar to Ledley King's fitness regime at Tottenham and the stocky central defender spends his time in the pool and gymnasium before joining his team-mates for the sessions covering the final match preparations. Perhaps it is to re-pay the faith of Bruce, and the support of the club's medical staff, but Mensah is smitten with Wearside and hopes to secure a permanent move there.


He said: 'I would like to stay here. I am happy and glad. My colleagues make me happy.


'I have worked very hard with the physios here and I believe I am back now, fit and ready. It has been hard, getting as fit as I can for games without doing much training with the ball.


'Back in France I used to have a lot of injuries but the physios are working hard on keeping me fit and everyone, the players and management, are all keeping me very happy, which is the main thing.

'I am enjoying it at Sunderland. My dad and my brother were here for the City game and that is the first time my family have come here to watch a game.


'I am very happy and I tried to show my mum and dad how well their son is playing. Unfortunately we lost the lead and I am not too happy about that but in the next game we will deliver.'


Mensah, valued at £6 million by his club, has done enough with his input when he is fit.


Bruce says Sunderland are a better side with him and his performance marking Carlos Tevez on Sunday helped nullify Manchester City's main threat.


Man of the match Craig Gordon, who just edged out Mensah for the award, is in the best position to appreciate the player's contribution to Sunderland's slow move towards Premier League safety.

The Scotland Number One said: 'John's been unlucky with his injuries, but I think we're seeing the best of him now.


'He's put together a run of games and does not need to do a great deal in training because he's a naturally very fit lad.


'He must be very fit to just come out and play games – he's our Ledley King. 'The management have been very careful with the work he does between games and it's paying off because he's been a great influence.


'I don't think it is any secret that if you get the same back four and goalkeeper playing together week in, week out, you get a much better understanding together.


'We've not been allowing too many chances against us of late and I think that's down to the back four knowing each other better from playing alongside each other.'

Source: daily mail