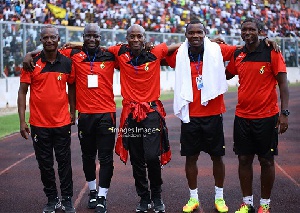 Ex-Ghana international Mohammed Polo says he has reservations about the number of recently retired ex-internationals on the Black Stars bench.
According to Polo, there are too many ex-internationals without the requisite training surrounding the team.

Head coach Kwesi Appiah, himself an ex-Ghana captain, is surrounded by assistants Maxwell Konadu, Ibrahim Tanko who all played for the Black Stars in the late 90s.

2016 FIFA World Cup captain Stephen Appiah is the team coordinator and Richard Kingson has been the goalkeepers' trainer since Appiah returned as coach of the side.

The 1978 Africa Cup of Nations Cup winner believes it is a case of too many cooks spoiling the broth.

''There are some areas which need to be looked at and that is what is missing - the players in the time of the 70's, 80's and even 90's are not coming into the system," Polo told the media.
''We have Kwesi Appiah, Maxwell Konadu, Ibrahim Tanko and Stephen Appiah at the same place [Black Stars]. This is an area that needs no special training. You just select them [players] and [they] go and play.

"What about those who are coming up? We parade all of them [Appiah and co.] at the [senior] level and leave the U-17 and U-20 for who to do that?

"They [youth teams] need to be trained and we go and gather all these people at the senior level.

"All these people should be training players in the league because that is where the standard is coming from."