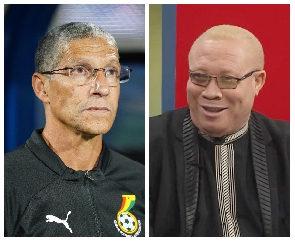 Ace broadcaster and lawyer, Moses Foh Amoaning has schooled Black Stars coach, Chris Hughton, on the qualities of Majeed Ashimeru and how to bring the best out of the player.
Following Ghana's match against Madagascar in the 2026 World Cup Qualifiers, where early comparisons were made between Ashimeru and Thomas Partey, Hughton downplayed the notion of Ashimeru being Partey's successor, categorizing Ashimeru as more of a runner rather than a technical and creative player like Partey.

"I wouldn't say Majeed is a successor to Partey. Partey is a more technical and creative player and Majeed is a runner. Coming into this game, Majeed had played one and a half games. We knew that he was lacking match practice. But he is a player that was good in Angola away from home. We are always looking out for any player that is bringing us something different."

In a sharp response in an interview on Sompa FM, Moses Foh Amoaning strongly disagreed with Hughton's characterization of Ashimeru.

The veteran lawyer expressed his shock at Hughton's assessment, stating, "I laughed when our coach said Ashimeru is a runner."

Foh Amoaning went on to provide insightful commentary, highlighting Ashimeru's ability to progress play, a trait typical of Ghanaian players.
He said, "Asheimeru is a player who progresses play and that is typical of Ghanaian players but because the coach is Irish with a European concept, he says he is a runner as compared to Partey.

He emphasized that Ashimeru's playing style aligns with the rich footballing DNA of Ghanaian stars who were known for their confidence and skill on the ball.

"Albert Asaase, Francis Kumi, Opoku Nti, Papa Arko play similarly, they take players on and dribble them because they are comfortable and confident with the ball. That is what we lack in this team," Foh Amoaning said.

Click here to follow GhanaWeb Sports WhatsApp channel 


Watch the latest episode of Sports Check with Ryan Bertrand



Ghana's leading digital news platform, GhanaWeb, in conjunction with the Korle-Bu Teaching Hospital, is embarking on an aggressive campaign which is geared towards ensuring that parliament passes comprehensive legislation to guide organ harvesting, organ donation, and organ transplantation in the country.

JNA/OGB