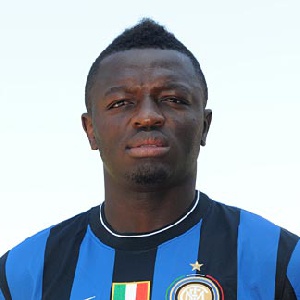 Sat, 24 Apr 2010 Source: --
Sulley Ali Muntari had some advice for Inter outcast Mario Balotelli, while Atalanta Coach Bortolo Mutti rues San Siro errors. This afternoon the Nerazzurri fought back to earn a 3-1 victory over their local rivals and temporarily climb back on top of the Serie A table.
"There was no risk of getting distracted, as we want to go all the way in Serie A, the Champions League and Coppa Italia," commented Muntari.

"Today we absolutely needed the win and we got it, even if it wasn't the best start. We were able to react strongly with character and earned a very important result."

Balotelli was not even in the stands, as Inter sent him home from the training ground last night.

"I wouldn't know what to say about Mario. He is our teammate, he apologised and is still very young. When you make mistakes, you learn, the fans must understand that.

"Mario is really a good kid and we all care about him. He's such a strong player, it's just that some of his attitudes are not good.
"He is still so young and needs time to mature. If we give him time, he'll become a great player. Will he grow up at Inter? Of course, because he has a contract. I hope he remains."

Atalanta had taken the lead through Simone Tiribocchi, but were already 2-1 down by half-time.

"The goals came from two of our mistakes that wiped out all our early good work. It's a shame, as with a bit more concentration we could've hit Inter again on the counter," said Coach Mutti.

"We handed them the initiative. It wasn't easy at that point to turn the situation around."
Source: --