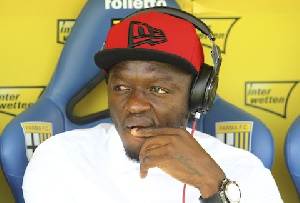 Sulley Ali Muntari has poured scorn on the notion that he is a "bad boy" as the Ghanaian international prepares for life at AC Milan.
The 29-year-old has already joined his Milan team mates in their pre-season training and says he is already looking ahead to the new Serie 'A' season.

Muntari had previously experienced a stint in Serie 'A' with Inter Milan where he developed a somewhat unsavoury reputation in Ghana colours.

However, in his interview with Gazzetta Dello Sport, Muntari is insisting that it is all behind him as he looks to make a more positive impression on his return to Milan.

There were several reports surrounding the conduct of Muntari in Ghana's camp during the 2014 World Cup but the midfielder says he will spill the bean at the right time so to put his name to rest.
"Am I a bad boy? The fact that I am a bad boy, excuse the term, is rubbish," he told Gazzetta Dello Sport.

"People have a false picture of me and I want to prove that I am a quiet person on and off the field. I am not saying that I have always been a saint, but I am now grown up, I feel different and everyone who knows me knows I stand for the truth and I hate cheating. I might have gone wrong a few times because I am human but it is not as the bad boy as people think I am".

"As for those who judge me badly as a footballer, I think they don't know me too well. This could be my year. My objectives are to take us back to the Champions League and to win something in this shirt, and to return to the national team because I can never turn my back on Ghana".