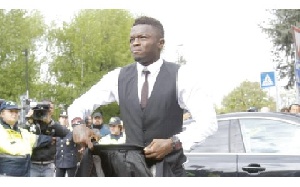 Fri, 2 Aug 2013 Source: Sports Mail
Footballers and superstars who are unhappy with the performance or look of their vehicles need not worry anymore as one of their own has come up with a perfect solution.

Ghana's midfielder, Sulley Ali Muntari, has set up an exclusive service to pimp out players'cars in Italy.


Muntari — part of the AC Milan team currently playing in the International Champions Cup in America — has formed the company, called 4FKMotosport.


It is based in Italy and also caters for designers, musicians and all millionaires.

At 28, the Ghana international and former Portsmouth player has a lot to offer but seems intent on making a start to life after football.


Muntari has played for both Milan clubs and was part of Jose Mourinho's Champions League winning side in 2010.


He has played 77 times for Ghana, had a brief spell at Sunderland and won the FA Cup during his one season at Portsmouth in 2008.

Source: Sports Mail