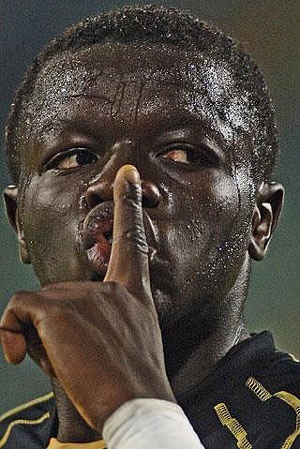 Thu, 26 Jun 2014 Source: ghanasportsonline
Ghanaian international and AC Milan star, Sulley Ali Muntari, is reported to have slapped Medeama owner, Moses Parker, after an altercation between the player and the Black Stars management committee member in the Black Stars camp in Brasilia, Ghana Sports can confirm.
The incident, according to Ghanasportsonline source close to the team, happened when tempers flared up during a meeting between the management committee members and the playing body.

Sulley, who overly got furious over Moses Parker's comment on an issue they were discussing, rushed on the Medama bankroller and punched him in the face.
"It is true Muntari punched Moses Parker on the face, but no one can tell exactly what Moses said that led to the altercation during the meeting," Ghanasportsonline source close to the team said.

It is believed that the said meeting between the playing body and management was over the players' unpaid appearance fee.
Source: ghanasportsonline