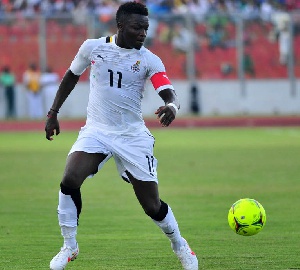 The secretary of the Professional Footballers Association of Ghana has disclosed that Sulley Muntari remains one of his favourite players.
Tony Baffoe believes the Ghana midfielder should be given another opportunity to join the Black stars because he will add something special to the team.

The former Inter and AC Milan midfielder, Sulley Ali Muntari was sacked from the Black Stars camp due to indiscipline acts during the 2014 FIFA World Cup in Brazil and has since not earned any call-up into the national team.

However, Tony Baffoe, a former Black Star defender has expressed his admiration for Muntari, indicating that he will always add something unique to the Black Stars.

"For me personally, Sulley is one of my favourite players. He will always add something special to the national team and that is my view.
"We don't know what the future is going to bring and whether you like it or not he remains one of my favourite players," he told Kasapa FM.

He added that the 30-year-old player should be given the audience to come out with his side of what happened in Brazil.

"I always belong to the side of the players but there must be communication. Sulley Muntari has been quiet, so we should wait for him to come out with a statement.

"He has never come out with this issue, but if he comes out, we would know how to support, back or defend his interest," Baffoe added