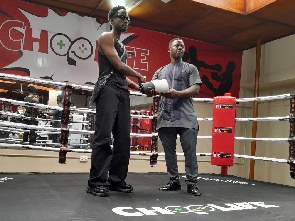 Award-winning musician and entrepreneur, Mr Eazi, has invested in the renovation of the Bronx Boxing Gym, situated in Jamestown, Accra.
The Bronx Boxing Gym, renowned for producing some of the nation's top boxers, recently underwent a significant transformation through Mr. Eazi's Choplife company.

Choplife undertook the complete refurbishment and modernization of the facility, adding state-of-the-art equipment to elevate it to international standards.

The newly equipped gym now boasts a professional boxing ring, punching bags, weightlifting equipment, punch paddles, gloves, and many more.

The grand unveiling of the revamped gym took place at a commissioning ceremony on Friday, September 15, 2023, where the keys to the facility were handed over to its management.

During the ceremony, Mr Eazi, also known as Oluwatosin Oluwole Ajibade, expressed his belief in the immense talent that Africa possesses.
He emphasized that what the continent truly needs is opportunities and development initiatives.

"In Africa, we are so talented, we don't lack talent, we lack opportunity, and development initiatives. Africa has been able to produce world champions against all odds. It is our duty at Choplife games to support African talents be it music, arts or sports. Our prayer is that this will be the beginning of many such initiatives. Through Choplife we will be able to make investments in the society," Mr. Eazi said.

The owner and lead trainer of the Bronx Boxing Gym, Carl Lokko, brimming with gratitude, vowed to maximize the facility's potential to groom more world champions.

He stated confidently, "Expect champions from here. We have two African Champions, Ghanaian champions, and world-rated boxers. So we are looking forward to higher heights to give Ghana a world champion."

Sammy Anim Addo, the boxing manager at BabyJet Promotions, joined in commending Mr Eazi for his substantial investments in Ghanaian sports, which extend to the betpawa Premier League.
The ceremony also witnessed the presence of distinguished guests, including Sharaf Mahama, the son of a former Ghanaian president, and former world champion, Joseph Agbeko and Emmanuel Gameboy Tagoe, among others.

The Bronx Boxing Gym has served as the training ground for former world champion Richard Commey and nurtured talents like Duke Micah and Frederick Lawson.

Currently, the gym boasts boxers like Sheriff Quaye, the reigning WBO Africa champion, and John Laryea, ranked among the top 20 Featherweight boxers globally.

The design of the newly-renovated gym was undertaken by fast-rising Ghanaian architect, Wisdom Afedzi.

The highly-rated architect was also behind Michael Blackson's school complex in Agona, Central Region.
Click here to start the nomination process for the 2023 GhanaWeb Excellence Awards

Ghana's leading digital news platform, GhanaWeb, in conjunction with the Korle-Bu Teaching Hospital, is embarking on an aggressive campaign which is geared towards ensuring that parliament passes comprehensive legislation to guide organ harvesting, organ donation, and organ transplantation in the country.

JNA/DO