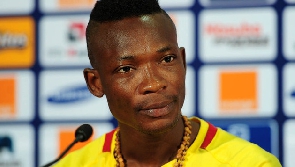 Former Black Stars defender, John Paintsil has clarified that his comment about the late Christian Atsu being snubbed and kicked out of the Black Stars was not directed at the Ghana Football Association.
John Paintsil has gone viral since Monday, February 20, 2023, after throwing some jabs while mourning the late Christian Atsu which many believed was directed at the Ghana Football Association.

"You snubbed him and kicked him out of your Black Stars at age 31. Atsu has been struggling to get a permanent stay in a club since the snub. We all know the Value & Respect your club gives you when you play for your Nation."

"Don't pretend you loved him because you don't at all," John Paintsil told Original FM in an interview.

However, John Paintsil in another interview as quoted by footballmadeinghana said that he was referring to Ghanaians in general and not particularly the Ghana Football Association.

"That's not what I said. I never mentioned the FA. I was referring to the hypocrisy of all of us as a people."

"We over criticise players in the national team to force them out and when they are no more, we sing them praises. That's what I said," he continued.
Background about Atsu

Christian Atsu was found dead in the debris of his apartment in Hatay, Turkey, where the earthquake massively hit on Sunday, February 6, 2023.

His death was later announced to the world which threw the family and the entire football world into a state of mourning.

The body of Christian Atsu after it was retrieved from the site of his apartment was flown to Istanbul where it stayed overnight before it was transported to Ghana on Sunday, February 19, 2023.