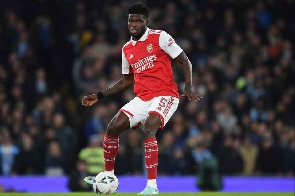 Arsenal midfielder Thomas Partey has recounted how often his parents would scold him for passing balls around instead of shooting at goal.
According to the in-form midfielder, his parents, always tell him his negatives and positives after matches and this has made him a better player.

The Ghana international seems to be enjoying his best season at the London club since joining them from Atletico Madrid in 2020. He has been at the heart of Arsenal's season as they push for a first league title since the 2003/04 season.

His performances for the Gunners have seen him receive lots of love from supporters and football lovers.

Asked how often he communicates with his parents in an interview on Supersports, the Black Stars midfielder said, "Both my parents are my coaches. There are instances during a game when I feel I can just chip ball but she(His Mum) would be like why don't I just attempt shooting often".

Partey went on to say, "There are situations in the game where things are different on the pitch than they seem on the pitch and in such situations, being on the pitch I feel there are too many bodies on the line if I shoot so I would rather look to give a pass which would create space and that is how it feels".
He had a word of advice for the north London side.

"I think the team is working hard. We go game after game and every game is important for us, trying to give our best and try to win every game as we have done.

"At the end, we need to earn the right to win and the team is working hard to be able to win the games."

Arteta's side currently holds a five-point lead at the top of the league table with 11 games to go until the end of the season