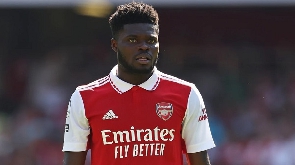 Arsenal fan and Member of Parliament for Tamale Central could not resist the urge to rope in his darling club and Ghanaian midfielder, Thomas Partey in the recent removal of Haruna Iddrisu and Muntaka Mubarak as Minority Leader and Chief Whip respectively.
The Gunners have been flying high in the Premier League this season, losing one and drawing just two out of nineteen matches.

Mikel Arteta's side who have 50 points are on course to win the league and Murtala Muhammad holds that the performance of the club is due to the rich experience of Ghanaian midfielder Thomas Partey.

He holds that the success of Arsenal is because Mikel Arteta has built it on experienced players who are helping youngsters like Saka and Martinelli to flourish.

This tactical move by Mikel Arteta, according to Murtala Muhammed is missing in the NDC.

He likened Haruna Iddrisu to Thomas Partey as the experienced figure working hard for the others to thrive.
He believes that his removal along with Muntaka Mubarak will gravely affect the chances of the party in parliamentary decisions.

"This action is taking our most experienced members. Aside Cletus Avoka and Collins Dauda, who is more experienced than Haruna Iddrisu. He has twenty years in Parliament. What they are doing is taking away the most experienced amongst us and bringing in new ones.

"My team Arsenal is doing very well because our attack is solid. We have three young men who are doing it and in the midfield we have an outstanding player in Thomas Partey. The young guys are performing because we have an experienced Thomas Partey so why would you take away your front bench?" he quizzed.

Background

A former deputy Minister of Finance, Dr. Cassiel Ato Forson, has been appointed as the Minority Leader, as a replacement for Haruna Iddrisu.
Emmanuel Armah-Kofi Buah has also been named as the new Deputy Minority Chief Whip.

Kwame Agbodza takes over as Chief Whip.

Ahmed Ibrahim, MP for Banda, has been maintained as the First Deputy Minority Chief Whip, while Comfort Doyo Cudjoe-Ghansah, MP for Ada, is the Second Deputy Minority Chief Whip.

This was contained in a letter to the Speaker of Parliament, Alban Bagbin, from the National Democratic Congress dated January 23, 2023.

KPE