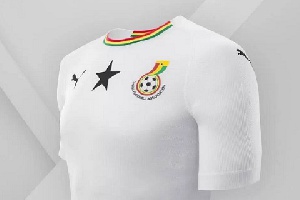 Puma has slashed its sponsorship deal with the Ghana Football Association because of the West African country's 'diminished global appeal'.
According to a report by Joy FM Sports, the German kit manufacturer cut their package by about 30% in the new deal which was signed the Normalization Committee in 2019.

This has been attributed to the negative publicity the country got from the premiere of the 'Number 12' investigative documentary on corruption and match-fixing in June 2018.

Some football administrator and match officials (referees) were captured on tape accepting bribes to influence results.

This means the provision of kits up to a €500,000 per year and a financial contribution of €800,000 per year have been reduced.
Also, the financial benefit of about €100,000 to €200,000 for playing in major competitions like the Africa Cup of Nations (AFCON) has been cut.

Ghana FA Executive Council member Nana Oduro Sarfo confirmed there have been changes.

''We have renewed our partnership with Puma. During the era of the [Normalisation Committee], it was renewed with the same duration of four years as it was [previously],'' the Berekum Chelsea chief told Joy Sports.

''The figures have changed a little because of the exposé, because of sales, because of popularity, but we [the new FA administration] have been there to speak to them and we will see how we can come back to that level [we used to be].''