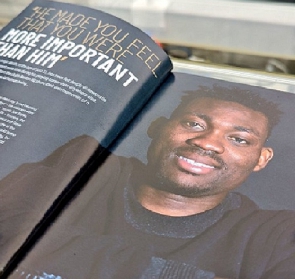 Newcastle United paid another tribute to the late Christian Atsu during their Premier League Week 27 fixture against Wolves on Sunday, March 12, 2023.
Atsu was on the cover of their matchday programme magazine. The magazine had an article written about the former Black Stars player.

The club acknowledged Atsu's humility and big heart in the emotional article.

"There wasn't a day that went by that he didn't say 'good morning ' or 'goodbye,' " part of the article read.

Atsu spent the most time with a club at Newcastle, where he played for four seasons at St. James Park.
He had a special connection with the fans, who composed a chant for the Ghanaian to appreciate his talent and dedication.

Christian Atsu passed away in February 2023 after being trapped to death in rubble following an earthquake in Turkey.

The funeral rites of the late footballer is scheduled for March 17, 2023, in Ghana.

EE/KPE