Ghana Youth Ministry's Youtherfest unveils transformative 10-year succession plan for youth festival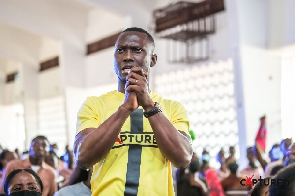 The Ghana Youth Ministry, a dynamic Christian youth organization, announced an ambitious 10-year succession plan for their flagship event, YOUTHERFEST.
This groundbreaking initiative aims to empower young Christian leaders and ensure the continued success of the annual youth festival.

The announcement was made at a special ceremony held at the ministry's headquarters in Accra, which saw a gathering of fervent youth, ministry leaders, and supporters.

Daniel Kwame Appiah Asare, the Ministry's Director, spoke passionately about the significance of YOUTHERFEST and its role in shaping the spiritual lives of young Christians. "YOUTHERFEST has been a beacon of hope and spiritual growth for our youth for a decade now," he said.

"Our 10-year succession plan is a testament to our commitment to nurturing future leaders who will continue to lead our youth towards Christ."

The Ghana Youth Ministry's YOUTHERFEST 10-year succession plan includes several key components:
1. **Leadership Development Workshops:** Comprehensive training programs and workshops will equip young leaders with the skills needed to organize and manage the festival effectively.

2. **Mentorship and Discipleship:** Established leaders within the ministry will mentor and disciple aspiring youth leaders, ensuring they have a strong spiritual foundation.

3. **Youth-Led Committees:** The plan encourages the formation of youth-led committees responsible for different aspects of YOUTHERFEST, including worship, outreach, logistics, and communications.

4. **Annual Talent Showcases:** YOUTHERFEST will feature annual showcases highlighting the talents of young participants, promoting creativity, and fostering a sense of unity within the Christian youth community.

5. **Sustainability Initiatives:** Environmental consciousness will be integrated into the festival, encouraging eco-friendly practices and responsible stewardship of resources.
The 10-year succession plan reflects the ministry's deep commitment to nurturing a new generation of Christian leaders who will carry forward the mission of YOUTHERFEST. It seeks to empower youth to become not only effective event organizers but also spiritual leaders within their communities.

During the launch event, testimonies were shared by past YOUTHERFEST attendees who expressed their excitement about the program. Nana Ayebea-Danso, a 22-year-old participant from Prampram, shared, "YOUTHERFEST has been life-changing for me. I can't wait to take on a more active role and contribute to its continued success."

The Ghana Youth Ministry's YOUTHERFEST has long been celebrated for its spiritual impact on the country's youth, and this 10-year succession plan demonstrates a forward-looking vision to ensure its legacy endures. It signifies a commitment to cultivating young leaders who will carry the torch of faith and unity for many years to come.