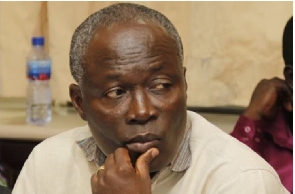 Member of Parliament for Odododiodio constituency, Nii Lante Vanderpuye has come to the rescue of Liberty Oldies Coach Adotey Allotey, who has been left devastated after his home and all of his belonging were destroyed in a fire last week.
The Former Sports Minister paid a visit to Coach Adotey along with some friends and former teammates to sympathize and show their support.

According to a report by Happyghana.com, Nii Lante Vanderpuye offered to put up a chamber and hall apartment for the Liberty Professionals oldies coach, making a pledge of 20 bags of cement to support the project.
The report also states that Alex Ayeetey, a member of the Oldies team also pledged to support the project with 10 bags of cement.

Nii Lante also made a passionate appeal to ex-players and the public to come to the aid of Coach Adotey Allotey.