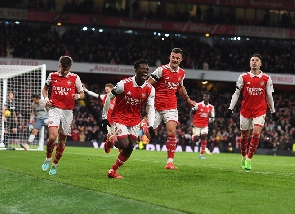 Eddie Nketiah was the hero for Arsenal once again on Sunday, stepping into the breach and extending his excellent goalscoring form as Manchester Untied were dispatched 3-2 in a Premier League thriller.
Whenever Nketiah scores, his catchy theme tune is rolled out on social media as well as on the terraces at the Emirates Stadium.

"Your defence is in trouble," as the viral clip goes, "Nketiah in the room."

He certainly was against United on Sunday, and Gooners online were loving it.

Here's what they had to say after the Red Devils were silenced by Nketiah (in the room).

Nketiah in the room
First of all, we have to start off with the increasingly prevalent Nketiah chant, which was again ringing around after his double on Sunday.

The craze has caught on in South Africa, with numerous supporters reminding their United counterparts that the striker was 'in the room' after the Red Devils' backline clearly found themselves in trouble.

Arsenal TikToker Babablueh is believed to be the creator of the viral clip from which the chant originates, which first emerged after the striker's double against West Ham United on Boxing Day.


????Nketiah in the room...????

You've got to admit it's catchy!

Congratulations to Eddie ????????????????????????#ARSMUN pic.twitter.com/9YvuQciRgd

— Ed Dove (@EddyDove) January 22, 2023
Eddie acknowledges
Nketiah himself paid reference to his own chant after the match with a tweet beginning with the line: "Your defence is in trouble…"

Clearly Eddie is like the rest of us, he just can't stop humming that catchy tune.


Your defence is in trouble!!! ???????? #GodsPlan @Arsenal pic.twitter.com/Dw9ltLW7T7

— Eddie Nketiah ???? (@EddieNketiah9) January 22, 2023
Arteta trusts him
User @AFCElliot believes that Nketiah's showings at the moment will ensure that Mikel Arteta and Arsenal don't need to dip into the transfer market for another goalscorer during the current window.
"Looking at his performances, Mikel has gained a lot of confidence in him," he wrote. "Otherwise, we'd be in the market for a striker right now…"

Arsenal set the pulse racing

Understandably, there's a lot of excitement about this Arsenal side, not just for their position in the table, but also for the way they're taking the game to opponents.

"What a game," wrote @murraygunnerafc. "I haven't been this excited about Arsenal for a long, long time.

"Partey, Nketiah, Saka, Odegaard…all phenomenal."
How important could this victory—and the performance—prove to be as the season wears on.