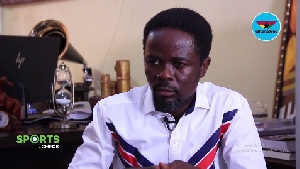 The Normalisation Committee is struggling to find persons with integrity to serve on targeted ad hoc committees, spokesperson Dan Kwaku Yeboah has suggested.
The interim Ghana FA Executive committee are under line of fire for perceived lack of direction since they were appointed by FIFA to steer the affairs of football for the next six months.

The four-member committee are receiving lots of flak after announcing they will hold a press conference on Wednesday to clarify' their mandate to the local media, five weeks after they were handed the interim role.

But it appears the snail pace of work of the committee is ruffling feathers among football aficionados in the West African nation.
Widespread reports suggest the committee is positioning itself to secure an extension of their mandate even before they start their work.

And the committee's spokesperson Dan Kwaku Yeboah has suggested attempts to form ad-hoc committees have been hampered by inability to find suitable persons for the various roles.

"The Normalisation Committee is working to create adhoc committees. Putting together these committees is lot of work. Because there are integrity issues and we have to find them. You know it's not easy in that regard." he told Asempa FM.