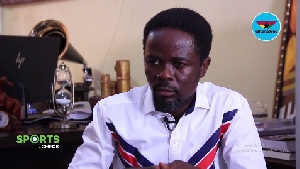 The Normalization Committee (NC) of the Ghana Football Association (GFA), has written to the Confederation of Africa Football (CAF) to extend Ghana's deadline for the submission of that will represent Ghana in the 2019 continental competitions.
Mr. Dan Kwaku Yeboah, spokesperson of the Normalization Committee, said in an interview that, the Dr. Kofi Amoah led committee would be meeting CAF Executives, during their visit to Ghana this week to firm up plans for Africa Women's Cup of Nations (AWCON), to take concrete decisions on the matter.

"Due to our current situation, we have written to CAF to find an amicable solution to the problem, but we are yet to receive response from them.

"In view of the fact that, AWCON would be hosted in Ghana, all the executives of CAF would be in Ghana this week, so we would meet them to discuss the issue," he added.
According to Mr. Kwaku Yeboah, the Normalization Committee would also meet all the club owners by the close of the week to decide on which teams to represent Ghana in the African Club Competitions.

The Ghana Premier League was halted after the first round of games, when an Anas expose on bribery and corruption was premiered at the International Conference centre, allegedly exposing high-ranking members of the Ghana football association engaging in corrupt practices as well as some referees and match officials.

There have been calls from some football administrators and club owners calling for an expedite action on clubs to represent Ghana in next year's CAF Champions League and CAF Confederations Cup.