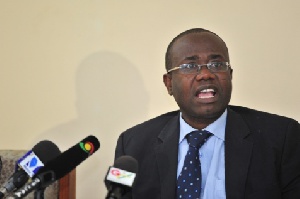 President of the Ghana Football Association (GFA), Kwesi Nyantakyi, has expressed his deepest regret for the fallen standard of sports journalism in the country.
There have been various assertions in the Ghanaian public which suggest that, the media have not helped thrive the development of Ghana's sports which largely led to the dwindling fortunes.

During his address at the three-day football summit organised by the GFA, Nyantakyi highlighted the need to work very closely with the Sports Writers Association of Ghana (SWAG), in order to institute educational programs to enlighten media personnel on their respective roles and stop attacking personalities.

"We want to build a strong relationship with the media, we want to engage SWAG and help them understand what we do better and provide more information thus organizing more seminars so that they can interrogate our activities further.

"Both the media and GFA are partners with the common objective of developing the game and it doesn't lie in anybody's interest if they are problems," Nyantakyi told the media.
"But the irony of the whole thing is that the standards of journalism nowadays has fallen regrettably as compared to the days of Kwabena Yeboah, Joe Aggrey, Carl Tuffour, Felix Abayateye and me for instance I have court cases against people and that is the reason for it.

He added: "I don't regret for going to court and I can assure with this few I have filled I have more to fill and this is to just clear my name and I'm not interested in compensation from anybody.

"So the point I want to emphasize is that we want to work with the media and let put aside our personal prejudice and likes or dislike for people and concentrate on Ghana's football."