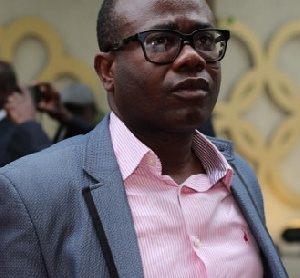 A CAF executive committee member Musa Bility believes under-fire Ghana FA president Kwesi Nyantakyi will be exonerated of the fraudulent charges levelled against him.
The 49-year-old has been charged with "defrauding under false pretences" on orders of Ghana president Nana Akufo-Addo, after a documentary produced by Ghanaian journalist Anas Aremeyaw Anas allegedly captured Nyantakyi using names of high-ranking government officials to defraud foreign investors.

Although, the Ghana FA chief is still under investigation, Musa, who doubles as Liberia Football Association president, believes his colleague is a man of integrity and will survive the charges.

"Kwesi Nyantakyi is a good man. His credibility and integrity is undoubted and everyone at Caf is very confident he will come out clean," Bility told Beach FM.

"I'm not surprised with the current situation Kwesi Nyantakyi finds himself in his country. This is because allegations of bribery and corruption against Football Association presidents as well as their involvement in governmental manipulations are gradually becoming normal practices in Africa.

"Many people believe football administrators are corrupt but that's not the case. Nyantakyi shouldn't be defined by this current predicament alone since we believe he will be free soon. He has a lot of goods to still offer African football," he added.
The full video of the investigation will be premiered in Accra on June 6 & 7.