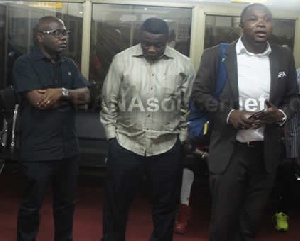 The Ghana Football Association (GFA) has said, its president Mr. Kwesi Nyantakyi is still at post.
A statement signed by Mr. Isaac Addo, General Secretary of the GFA said, following a meeting of the Executive Committee of the GFA on Thursday, the "body wishes to state that nothing has changed in terms of the GFA hierarchy and Mr. Nyantakyi still remains the President of the local football controlling body.

"Any statement contrary to this must be disregarded.

"We wish to re-iterate that Mr. Nyantakyi has the full support of the Executive Committee of the Ghana Football Association (GFA)," the statement added.

The statement said, all offices and outlets of the GFA remain fully functional and all scheduled activities of the federation continue without any hindrances.

It urged all our stakeholders and members to remain calm during this period.
On Tuesday 22nd May 2018, the Criminal Investigations Department (CID) was called upon to probe into an issues relating to the President of the Ghana Football Association, Mr Kwesi Nyaktakyi in the yet-to- be released documentary by Anas Aremeyaw Anas.

The statement said, though the President of the GFA was on official duties outside the country, he cut his trip short and returned to Ghana on 23rd May 2018 and was on his arrival escorted to the CID Headquarters where he was interrogated, a statement taken and subsequently granted bail.



It said "presently he is helping the police with their investigations and remains innocent until he is proven guilty of all charges levelled against him.

"The GFA President being a law abiding citizen respects the law, he is not a flight risk and has indicated his willingness and availability to the investigative authority anytime he is required to do so.




c