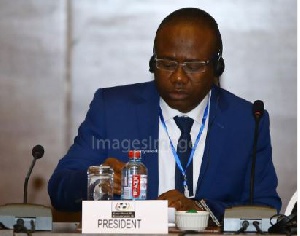 The President of the Ghana Football Association (GFA), Kwesi Nyantaky, has lauded the Black Maidens for qualifying for the 2018 FIFA U-17 Women's World Cup in Uruguay.
The Maidens beat their counterparts from Djibouti 10-0 at the Cape Coast Stadium on Sunday in their final round of qualifiers.

Evans Adotey and his ladies go through 19-0 on aggregate after a comprehensive win in the first leg.

Mr Nyantakyi who was at the Cape Coast Stadium to support the ladies praised and backed them to do well at the tournament.
''We made it but let's take one step at a time. Now that we have qualified, we need to plan and prepare the team well so we can make a lasting impression at the World Cup,'' Nyantakyi told the media.

Ghana will join South Africa and Cameroon for the tournament which will run from 13 November – 1 December in Uruguay.