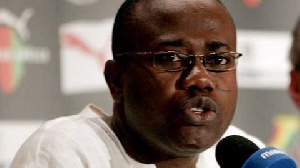 The Ghana Football Association (GFA) has stated that Mr Kwesi Nyantakyi remains the President of the Association despite being under investigation for corruption-related charges.
"Following a meeting of the Executive Committee of the GFA on Thursday, the body wishes to state that nothing has changed in terms of the GFA hierarchy and Mr Nyantakyi still remains the President of the Ghana Football Association," GFA General Secretary, Isaac Addo, indicated in a statement on Thursday 24 May 2018.

President Nana Akufo-Addo reported Mr Nyantakyi to the Criminal Investigations Department (CID) of the Ghana Police Service for allegedly defrauding by false pretences and influence peddling after having been privy to investigative journalist Anas Aremeyaw Anas' Number 12 undercover documentary, which captured Mr Nyantakyi allegedly using the names of the President and Vice-President Dr Mahamudu Bawumia to clinch investor deals.

However, the GFA press release said Mr Nyantakyi "remains innocent until he is proven guilty of all charges levelled against him".

"We wish to reiterate that Mr Nyantakyi has the full support of the Executive Committee of the Ghana Football Association (GFA).

"All offices and outlets of the GFA remain fully functional and we confirm that all scheduled activities of the federation continue without any hindrances," the statement added.
Meanwhile, Mr Nyantakyi reported back to the CID Headquarters with his lawyer, Thaddeus Sory, on Thursday as part of his bail requirement.

He reported around 2pm on the blind side of the media, shortly after a press briefing by the police where the law enforcement agency debunked media reports that Deputy Minister of Roads and Highways, Anthony Karbo, has also been invited to assist with investigations.