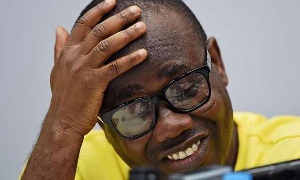 Former Minister of Youth and Sports, Elvis Afriyie Ankrah, insists ex-GFA boss Kwesi Nyantakyi should have relinquished his position when the applause were high during his tenure in charge of Ghana Football.
The beleaguered former CAF Vice President resigned from his position as head of Ghana's Football and other related posts on the continent's after he was captured in the Anas documentary allegedly implicating himself in illegal transactions in relation to the Ghana Premier League and the country's Presidency.

Elvis Afriyie Ankrah, who worked with Nyantakyi during his time as Sports Minister believes the Wa All Stars owner had some positives during his era but should have stepped down when the applause was loud.

"I think that Kwesi Nyantakyi should have left when the applaud was loudest. If he is being honest with himself, he had given clear indications that he was going to leave," Afriyie Ankrah said on Point Blank on Citi Eyewitness News Wednesday night.

"This should be a lesson to all of us, especially politicians who hold elective positions; you leave when the applause is loudest. All these things wouldn't have gotten this bad if he had stuck with his decision to leave.
"That's the lesson we can all draw from this. You leave when the applause is loudest. Despite his foibles, he had done so much and he should have just left," Afriyie Ankrah told host Umaru Sanda Amadu.

Following the post Anas number 12 documentary several Ghana football administrators and over 100 referees were implicated for tarnishing the reputation of the game.

The exposé led to the resignation of GFA president Kwesi Nyantakyi, while over 70 referees were handed various bans by the Confederation of African Football and the Referees Association of Ghana.