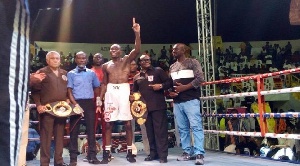 Former World Champion, Ike 'Bazooka' Quartey, says undefeated Namibian boxer, Walter Kautondokwa, deserved to win his WBO Africa Middleweight Belt against Ghana's Obodai Sai at the Bukom Boxing Arena in Accra.
Kautondokwa stunned the teeming supporters of Sai when a right hook knocked him out in the fifth round after failing to resist the dominance of the Namibian who had earlier predicted a surprise even before landing in Ghana.

Sharing his thoughts on the bout, the three-time World Welterweight Champion, Ike Quartey, held the view that the Namibian deserved to win the bout because of his ability to sustain his authority and dominance to pare Obodai Sai.

"I was not surprised at all he (Kautondokwa) won the fight. He proved beyond reasonable doubts that he was in control of the fight. That is what a boxer has to do and so I trust he deserves the victory."
According to Ike Quartey, bouts of such nature require enormous preparations, adding that he believes Obodai Sai did not put in adequate measures to enable him stop the champion.

"I think he did not prepare well. it showed in the way he moved. When you watch the fight, Kautondokwa did everything till the right hook came and wobbled Sai. He has potential and surely qualifies to be a world class boxer," he added.

Kautondokwa also added to his collections the IBF Africa middleweight to improve his record to (15-0, 14 KOs), while Sai is now (32-3, 24 KOs).