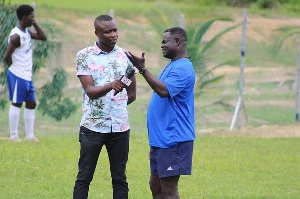 Fri, 24 Aug 2018 Source: Saddick Adams (Sports Obama)
Barely 30 years after breaking the shells of obscurity and lightening the global soccer scene, Nii Odartey Lamptey has taken off to horn the careers of others.
Unassuming Lamptey, born in Ghana's Port City of Tema, burst onto the scene as a 14-year-old at the 1989 FIFA U-16 World Championship in Scotland. After a star performance in the opening game against the hosts - soccer legend Pele watching from the Hampden Park VIP - hailed the tricky and explosive midfielder as his natural successor.

Two years later at the Under-17 version of the tournament in Italy, Lamptey became a global phenomenon, leading as the star man of Ghana's Black Starlets. Ultimately outshone the likes of Alessandro Del Piero and Juan Sebastian Veron to lead the twinkle Starlets to the title, winning the Golden Ball and scoring four goals to cap it. Summarily, Odartey's show in 1991 U-17 World Cup, was a fleeting validation of Pele's remarks of him. A star was born. But how that story would travel, and end, is in itself another story. He was the next Pele at 17, but a pale shadow of the legend when he was to be.

At 43, Lamptey is still highly revered in Ghana and African football circles and often used as a byword for a cautionary tale of putting too much pressure on young players to be successful. Now on a mission to grill the next superstars, Odartey Lamptey has opened his arms to young footballers across the West Africa Sub Region.

There are five foreigners and 32 young Ghanaian footballers whose dreams he has vowed to shape. And even welcomes more.

At his Glow Lamp Soccer Academy, it's not too difficult to sot the array of talents ready to glow in future. Lamptey cuts a father figure when around these highly motivated lads, as well he can be a stern trainer.
"He is our idol and we are so privileged to be training under such a legend who we read and heard so much about", Osman Bilal, a 14-year old midfielder tells me. "I have been here for more than a year and I can say that I haven't felt a great way in my football like I have had here".

Less than 5 kilometers drive from Ghana's ancient port city of Elmina lies Abreshia, where Glow Lamp Soccer Academy is situated. The Academy's location offers a panoramic view of the beach resorts and surrounded by hordes of coconut trees. Upon my arrival from Accra, I readily appreciated the secluded serenity the soccer Academy provided and my experience was further validated by the cheerful looks on the faces of the boys on the soccer field. Lamptey's vision to give back to the industry has always been a drive, culminating in the birth of Glow Lamp Soccer Academy.

Established in 2010, Odartey Lamptey started with only 9 prospective soccer stars, a number not even enough to start a football game. Funding the entire dream from his personal coffers, he had to make use of a rented apartment with only three rooms. But desirous of grooming and guiding these talented boys, the Soccer Academy moved to a new site.




The new Glow Lamp Academy premises houses eight separate flats, including spacious and well ventilated bedrooms with the capacity to house 60 players. Academy players now have access to the lot of world-class facilities with on-site dorms, on-site soccer, nutrition, and training facilities, and for those with interest to pursue high school education, on-site high school which is one of the best in the district. There's a conference room, visitors halls, dining halls and a spread of several other facilities. In the alley leading to the hostel, one cannot miss the sight of striking photos of past and present global soccer icons plastered on both sides of the walls. This, he consciously did to serve as an inspiration for the young.
At the Glow Lamp Soccer Academy, instilling discipline is prime, but career guidance is the paramount idea. Lamptey himself is a victim of erratic career course, an experience he blames for not living to the teenage hype, and one he would draw as lesson to his students.

This is a player who was smuggled out of Ghana on a fake passport posing as the son of Nigeria captain Stephen Keshi so that he could sign for the defender's club Anderlecht as a 15-year-old. Here was a teenager who was abused for choosing to play football, and had to convert to Islam from Christianity as the only means of seeking refuge in a Muslim Soccer camp. But here is a man who has opened up to receive young footballers from all walks of life, catering every of their whims, just because they chose football.

His investment in professional staff at the Academy seems to yield dividends, with boys having made confessions of really important changes to their lives since opting to settle at the facility. 14-year-old George Baidoo, who moved 300km from Obuasi to join the Academy, says he has had a different life.

"I don't only play football but learn a whole new things from our leaders here". "Our coach Mr Lamptey and that man (pointing to ex-Hearts of Oak and Asante Kotoko midfielder) Mohammed Abubakar have been very instrumental. Abubakar is the assistant coach at the Academy, the one who has been taking the boys through daily drills and says he has come to appreciate the joy in impacting on these "supremely" talented guys.

A large painting of Nigeria legend in both dressing rooms at the Academy, and there are no reasons to guess why. The late Keshi was the guardian angel to Lamptey, the one who truly changed the trajectory of his football. What Lamptey is doing for this kids at his Soccer Academy, is a way he may be celebrated when these guys finally land their apparent European dreams. There are already some known graduates from Glow Lamp Academy playing professional football in Ghana and abroad. Former Hearts of Oak striker Kwame Kizito readily comes to mind, the lanky man having made his bones at Abreshia.
Odartey Lamptey tells me of several of his former clubs have expressed interest in partnering his project.

"I have received a lot of thumbs up by former clubs, ex-players and coaches and this urges me to continue doing more". A lot of agents flock to this place when we have our quarterly tournaments and you'll be amazed to see how happy they are to see me giving back to football".

Glow Lamp Soccer Academy may grow, as he hopes, to even "reach the levels of the famed ASEC Mimosas, Barcelona's La Masia and other top academies in the world". The facility is one to transform a lot of budding Ghanaian talents, and a big investment for Ghanaian football. As Odartey Lamptey shows me around the four separate standard football pitches and he points to a vast land overlooking the hostel and says "all that place is under development and I hope to build an ultra-modern gym and lab in future.

Approaching 1:00pm and one boy runs to hold Lamptey by the shirt and says "Sir, it's time for dining". He runs back. Lamptey smiles and tells me that 15-year-old is a skipper of the junior team, idolizes Swansea player Andre Ayew, hopes to play for Ghana Black Stars in future. But it is Lamptey, and his Glow Lamp Academy tasked with the arduous but interesting task of delivering that boy's dream.

Writer; Saddick Adams is a senior sports journalist and head of sports at Atinka Media Village.
Email: Saddickadams@yahoo.com
Source: Saddick Adams (Sports Obama)