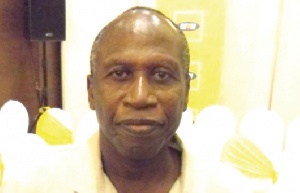 Former Ghana star Rev. Osei Kofi says he wants no official from government and the Ghana FA at his funeral to read sweet tributes for failing to honour the victorious 1965 Black Stars team on their 50th anniversary.
This follows a move by the Despite Group of Companies championed by Sports Presenter Dan Kwaku Yeboah to organize a commemorative game between the 1992 Black Stars team against Asante Kotoko in honour of the 1965 squad at the Accra Sports Stadium on Friday.

But Rev. Osei Kofi has lashed out at authorities for reneging on their duty to organize such an event to honour the 1965 squad just over a year after the state made a token payment to the members of the Black Stars squad that won the four African Cup of Nations titles the nation prides itself with.

Government just over a year ago released over $571, 000 to the Sports Ministry to be shared to all members of the victorious Nations Cup winning squads.

Some of these former players including Rev. Osei Kofi received double payments due to their involvement in multiple Nations Cup winning squads.

He took his share of the booty and praised government for taking such an initiative in making the token payments to former Black Stars players.

With the present economic challenges facing the country, and especially with the Sports Ministry even unable to make statutory payments to the various national teams not to talk about other sporting disciplines, the state has no choice but to leave such initiatives in private hands which the Despite Group of Companies have gladly adopted.
But Rev. Osei Kofi remains defiant in his stance that the state ought to have organized the event and for that matter officials from government and the GFA are not needed at his funeral to pass tributes in the event of his death.

"This is something that government should have done," Kofi said of Friday's event.

"The GFA President Kwesi Nyantakyi is the one who has to tell government to do it but since Kwesi himself was not born when we won the Cup, he doesn't see the need to do anything for us.

"I will go to President Mahama and tell him that what Peace FM is doing is for us but we are required to pay GHC15,000 for the Accra Sports Stadium.

"So they want to wait for us to die before we are honored.

"I always say that if they don't know and they turn up at my funeral to admonish my good deeds, I swear I will rise from my eternal sleep."