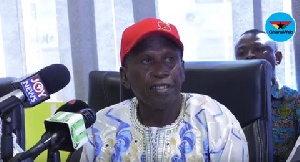 Legendary Ghanaian footballer, Osei Kofi has accused the leadership of the Professional Footballers Association, Ghana of disrespecting members of the Retired National Football Association of Ghana.
According to Osei Kofi ahead of last year's GFA elections, PFAG members, Tony Baffoe and Sammy Kuffour asked them to disband their welfare body and join the PFAG.

He revealed that their failure to heed to the request of Kuffour and Baffoe resulted in them losing their voting right.

Osei Kofi alleges that Kuffour who was a member of the Normalization Committee orchestrated that act.

Speaking to Asempa FM, Osei Kofi chided Kuffour and Baffoe for what he believes to be a show of disrespect to their 'senior colleagues'.

He averred that the conduct of the two could have a negative effect on them and the Black Stars as the Bible warns against disrespecting the elderly.

"We are older than Osei Kuffour. After all, we won four cups and he won nothing so he can't tell us that if we want to vote, we should join the professionals. We use 19 years to win four cups, it has been almost forty years and they haven't won anything so the professionals what did they achieve?"
"What he did was disrespectful and it will have an effect on Ghana because the bible asks us to respect the elderly. It also tells us to respect our parents so that we will spend more time on this earth. If young people die by heart, people don't understand but this is one of them. They should be careful because it is not everyone you can disrespect", he said.

Another member of RENFAG, Mohammed Polo also took a swipe at the members of PFAG, describing them as "a bunch of jokers and underachievers".

They are a joke! They do not respect. We (former players) served Ghana (locally) but they served their respective clubs (abroad). How many cups have they won for Ghana?

"Samuel Kuffuor has disappointed me, you must respect your seniors. Who is Tony Baffoe, what has he done for Ghana? How many times has he played for Ghana? Is he not from Germany before he arrived in Ghana? How can you come and direct us who are natives?"

"He has an opportunity, he is now with CAF but he should not disrespect us. What Kuffuor has done is also disrespect. They don't respect us."