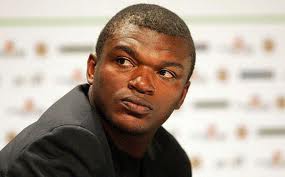 Sat, 31 Mar 2012 Source: --
Asante Kotoko and Black Stars legend Rev Osei Kofi has also thrown his weight behind French-born Ghanaian Marcel Deasilly for the vacant Black Stars coaching job.

Osei Kofi told Kumasi-based radio station FOX FM that Desailly's appointment would greatly benefit Ghana.


'For me, if my advise is sought for on who should be given the black stars job, I will prefer it to be given to Desailly because he can help us a lot especially coming from France where he has chalked successes with the France national team and to some extent Chelsea in England.'


The former Asante Kotoko player who was called 'wizard dribbler' because of his ball dribbling skills used German legend Franz Anton Beckenbauer as a yardstick to argue against those saying that Desailly has no coaching experience.


Current USA head coachJürgen Klinsmann, whose first ever coachign job was with the Germany national team, was also used as a reference by Osei Kofi.

'People are saying he has no experience. Experience in what? Beckenbauer had no certificate when the national team job was to be given to him. People objected but the Government intervened and asked the FA to give him the job. He delivered when the job was given to him so this issue of no experience should be put somewhere'


Osei Kofi also asked whether some leading members of the Ghana Football Association had undergone any football administration courses before assuming certain positions within the body.


'Let me ask which of the FA members has gone through football administration courses to get the experience to manage our football.Ghanaians should be truthful to themselves. We don't have time on ourside and so Desailly is the best person to manage affairs for the Black Stars.'

Source: --