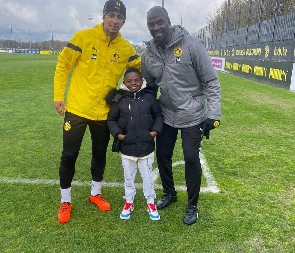 Ghanaian actor and football agent, Samuel Yaw Dabo, has made an interesting revelation on how former Black Stars coach Otto Addo took him into a classroom to mentor him when they met at Borussia Dortmund's camp in Germany.
Dabo revealed that Addo took him into a classroom-like setting to provide mentorship and guidance.

During his tour in Europe, Yaw Dabo had the opportunity to meet Otto Addo and visit Dortmund's camp. It was during this time that Addo took Dabo under his wing and provided valuable insights.

Dabo expressed his gratitude for the knowledge he gained during their meeting, particularly in the area of player mentorship and development towards becoming a world-class player.

"I have learnt a lot especially when I went to Dortmund, I went to a classroom. Otto Addo was the one who took me there. The things he taught me it's not easy," Dabo stated on Wontumi FM.

He further explained that Addo taught him how to counsel a player after a match, identifying their mistakes, and areas of improvement, and designing specific training programs to enhance their skills.
Through this experience, Dabo said he gained a deeper understanding that aspiring players go through extensive training before achieving stardom.

He added that Otto Addo "showed me how to counsel a player after playing a match. His mistakes and things he lacks and what he can improve. Put the player on a special programme to improve his skill and more on video. I got to know that before a player becomes a star he goes through a lot of training."

Yaw Dabo travelled to Europe with the hope of finding investors to help his football club, Dabo Soccer Academy.

The actor was able to visit several clubs, one of which shot his popularity when he visited Madrid to watch the Champions League game against Manchester City.

JNA/OGB