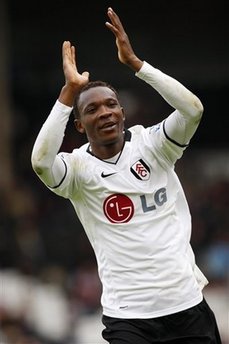 Fri, 11 Sep 2009 Source: 90 Minutes Newspaper
THE Europa League battlelines have been drawn and for Fulham's John Paintsil, he is looking forward to the mouth-watering games against one of the competitions finest teams, AS Roma, as well as a double header against Samuel Inkoom's FC Basel.

The draw for the group stages took place at the Grimaldi Forum in Monaco on the 28th of August and has pitted the West London side against the likes of Italian powerhouse, AS Roma, FC Basel (Switzerland) & CSKA Sofia (Bulgaria). In an interview with 90 MINUTES newspaper, the Fulham ace said he was expecting a cagey encounter with the teams but was hopeful that Fulham will qualify to the next stage of the competition. He told us: "The group is a difficult one looking at the teams that we've been paired against."

 "It's not going to be an easy run of matches but as we did show in the qualifying rounds, Fulham have the men to do the job and we would do our best to get to the knock out stages," he added. Reflecting on their final hurdle against Russian outfit FC Amkar Perm from on a 3-2 aggregate win to get to the group stages, the in-form right-back said: "Playing away in Russia was not an easy one and was especially difficult playing on their artificial turf which made sliding tackles quite tricky. But we played to the coach's instructions and did very well to maintain our composure in those difficult conditions to qualify." Paintsil believes those experiences would go a long way to help them in the upcoming group games as they seek to win the Europa Cup this season.

Source: 90 Minutes Newspaper