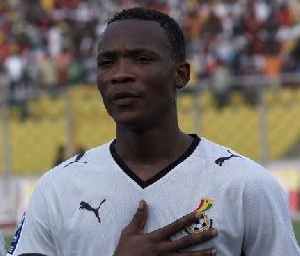 Sun, 12 Feb 2012 Source: --
Defender John Paintsil has rubbished talks of disquiet in Ghana's camp after their Nations Cup semi final defeat to Zambia.
A lot of comments on social networking sites purport alleged divisions in the Black Stars camp.

Some of the comments even went to the extreme to suggest pockets of physical exchanges between players.

But Paintsil who captained the side three times in the tournament in the absence of substantive John Mensah appeared shocked when asked about these reports.

"Since I have been in the national team, such thing has never happened," he said.
"Whether lose, win or draw, we still keep our heads up and we also talk to ourselves that there are more games ahead.

"In the Black Stars we love ourselves and because of this unity, everywhere we go we succeed and we will keep on going until finally we get the gold."

Ghana will now have to pick up the pieces quickly before the commencement of the 2013 and 2014 Africa and World Cup qualifiers starting with a friendly against Chile to be played later this month in the US.
Source: --