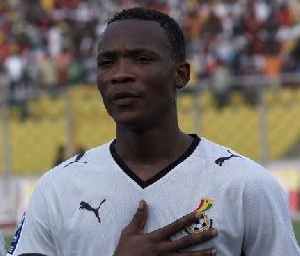 Thu, 16 Aug 2012 Source: --
John Paintsil has lashed out at some 'unscrupulous' journalists as being responsible for the lows in his football career.

The Ghana international has endured some serious setbacks in his career which spans over a decade.


Paintsil, 31, in an interview with Ghanaian newspaper 90 Minutes made an astonishing disclosure of how some Ghanaian journalists made attempts to smear his name with falsehood.


"I remember during my time at West Ham United, some guys who called themselves 'journalists' scandalously and falsely published that I had raped a 13-year-old girl in Ghana," he revealed.


"How on earth will someone do this to me when such a thing never ever happened?


"After reporting them to the Tema Community 3 Police station, they claimed it was someone in Canada who paid them to do this shameful act.

"For me, it was some Ghanaians who wanted my downfall and nothing else which is sad.


"For now, I just want to focus on my life and my career with my new club and leave everything to God."


The former Fulham right-back revealed another shocking plot to drag his name through the mud whih ultimately cost him a contract with Leicester City.


"Some journalists made it hard for me to enjoy my stay in England because of the continuous falsehood propaganda against me with the help of certain hidden individuals behind the scenes.


"Whilst I was at Leicester City, someone managed to create a false Twitter account using my name and picture to attack the dignity of the management of the club (Leicester).

"Meanwhile, I wasn't even on Twitter as I was only on Facebook and Skype.


"Can you believe that action caused many problems for me to the extent that my relationship with the club and my teammates deteriorated?


"How was I to excel when people created such problems for me everyday? The sad thing is that, these same people are still going round dragging my hard earned reputation in the mud.


"I am so gutted with their attitude and I hope their evil deeds catch up with them soon."


Paintsil has now made a return to the Israeli League with Hapoel Tel Aviv in his bid to revive his dwindling club fortunes.

Source: --