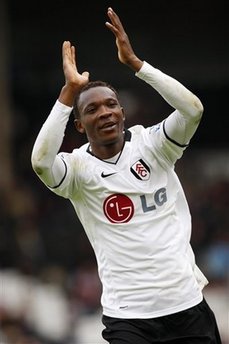 Wed, 23 Dec 2009 Source: RAYMOND ARKSPORTS
JOHN Paintsil has told his Black Stars colleagues that the Africa Cup of Nations in Angola presents them with a wonderful opportunity to write their names in Ghana's football history.

Paintsil has been a long standing member of a generation that reached the final of the World Youth Championships in 2001 before ending Ghana's long wait for a World Cup appearance in 2006. They then reached the last four of the Nations Cup in 2008 before sealing a second straight appearance at the World Cup.


But the Fulham defender says that while they have done well, it will count for nothing in future if they do not win a trophy one day. He said: "Now people know about Ghana and we were the first nation to qualify for the World Cup and its not that they are scared of us. They respect us as a football nation and we know it will not be easy. "The present crop has done really well but the truth is we have not won anything and the question always remains, 'what have you done for the nation?' And the truth is we haven't done anything yet.

"So Angola presents a nice opportunity to win a trophy and be called African champions so that in future we can boldly claim we played a part in that."


Ghana will have to contend with Togo, Burkina Faso and Cote d'Ivoire in Group B at the Cup of Nations.

Source: RAYMOND ARKSPORTS